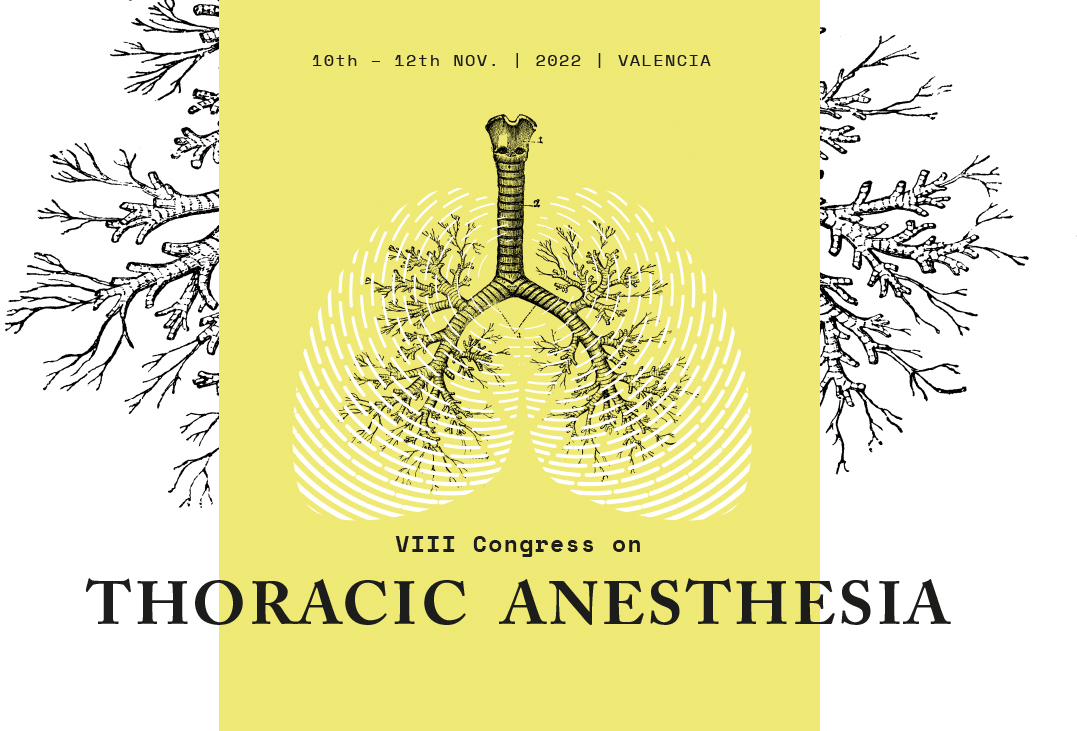 Dear Colleagues,
The VIII Congress on Thoracic Anaesthesia, organised by the University General Hospital of Valencia, will be held from the 10th to 12th of November, 2022, in Valencia.
This congress has requested, as in previous years, endorsement from EACTAIC, SEDAR, EVES, the Spanish Ministry of Health, and Valencia University.
This year's congress features the participation of a total of 61 speakers with great clinical experience in thoracic anaesthesia: 50 Spanish and 11 international speakers from Europe, America, the Middle East, and Japan.
The programme of this 8th congress includes, for the first time, a review of current know-how with regard to technical innovation in robotic thoracic surgery, which is beginning to be applied in some leading hospitals throughout the world, including Spain's University General Hospital Consortium of Valencia (CHGUV).
The congress will also highlight the most useful techniques of locoregional analgesia that can be employed in thoracic surgery, adapting such to minimally invasive surgery and fast-track programmes that are being implemented in all hospitals.
On the other hand, the congress will present new recommendations on airway management for lung isolation and/or separation, which are being reviewed by a group of international experts from EACTAIC, who will be in charge of presenting them.
As a new feature this year, the programme will include a round table on COVID-19 patients and thoracic surgery, which will deal with invasive/non-invasive ventilation in these critical patients, including possible lung transplant that some of them occasionally require.
Finally, the congress will feature the optimisation of thoracic and oesophageal surgery patients by means of programmes such as prehabilitation. On the other hand, we will review the concept of Perioperative Medicine that should be applied to this specialty's patients to decrease perioperative morbimortality, and analyse the administration of neuromuscular/reverser relaxants, brain monitoring and hemodynamics, anticoagulants/antiaggregants, sepsis (asepsis/antibiotics) and safe sedation techniques for awake intubation.
It is worth highlighting the section entitled Clinical Simulation in Thoracic Surgery, which includes 4 Specialised Airway Workshops featuring all available devices and techniques to be explained by world-leading experts along with specific simulators. In addition, there will be 2 Ventilation Workshops, one featuring invasive ventilation with animal models and another non-invasive ventilation with simulation equipment. The congress also includes 1 Locoregional Blocks Workshop, in which echo-guided locoregional blocks will be performed with animals and simulation with human models. Finally, there will be 1 Hemodynamic Monitoring and Cerebral Oximetry Simulation Workshop with the exposition of clinical cases.
Best regards,
Prof. Dr. Manuel Granell Gil
Thoracic Surgery Member of SEDAR and EACTAIC
Head of Anaesthesiology Department, University General Hospital Consortium of Valencia
Lecturer and Doctor in Anaesthesiology, Medicine Faculty, Universitat de València, Spain